Social Media Marketing
We at Zenerom provide you timely Social Media Marketing services to promote your product or services. Our online marketing strategies are specially crafted with an intense research of years and practical experience, hence we can create and increase traffic. We aim to word indulgently with accurate Social Media Marketing strategies and creativity to build client-required brand awareness. We create and increase traffic for your Social Media sites and websites. Come let's build your business together for better tomorrow, better sales, and for better business.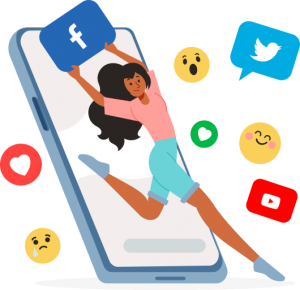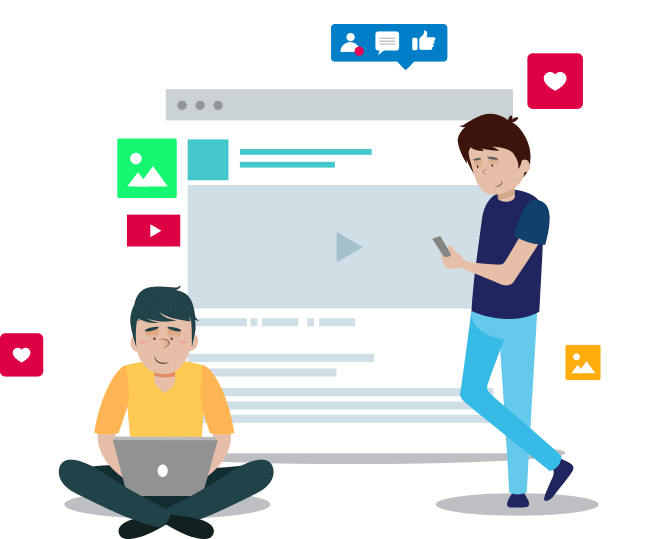 What is social media marketing services?
Social Media Marketing also widely acknowledged as SMM in short is a smart choice of internet marketing platform. It helps us to effectively promote a particular company's service or products. This is an incredible platform for internet marketing and is mainly employed on social media and intelligent websites to create audience engagement. Increased engagements mean great profits! That is what every business demands from Social Media Marketing services.
Social media marketing companies focus on creating and sharing interactive content on various social media networks like Facebook, Instagram, Twitter, LinkedIn, etc for better reach and helping a business grow. The main part of the effort is to create and implement effective marketing strategies and branding goals.
Strategy and Content Creation
Interactive platforms are created to trigger potential sales to satisfy client's requirements. We strictly abide by effectual strategies and aims for creative, plagiarism-free content curation.
Social Advertising
Now boosting brand awareness is easy with us. We are the right and affordable platform for immediate interaction and custom feedback.
Community Management
Increase brand visibility by catalyzing user-generated content. We effectively, manage, monitor, and promote brand followers across diverse social media platforms.
Viral Campaigns and Videos
Perfectly tailored high-quality video content for all Social Media platforms. We fabricate and optimize essential Viral Campaigns and shareable videos for you.
Facebook
Facebook is a social networking site that allows you to communicate with and share information with your family and friends over the internet. Facebook was founded in 2004 by Mark Zuckerberg when he was a student at Harvard University. It was initially developed for college students. Anyone over the age of 13 with a valid email address was able to access Facebook by 2006. With over 1 billion users worldwide, Facebook is also the world's largest social network.
A Facebook for the Business page will help you communicate with customers while also providing important details about your company, goods, services, and upcoming events.
YouTube
Google owns YouTube and it is an online video platform where you can create and upload videos and also watch these videos created by the YouTubers. Every day, YouTube users watch over one billion hours of video, and hundreds of hours of video material are uploaded to YouTube servers every minute.
YouTube marketing is the method of promoting companies and goods on YouTube's website by uploading useful videos to a company's YouTube channel or by purchasing YouTube advertising. YouTube is already massive, and it's only getting bigger.
Instagram
Instagram has a massive advertisement audience of over 1.16 billion users, giving marketers a huge scope to grow client's businesses. Instagrams marketing's potential reach has increased significantly this year, rising by 76 million people in just the last quarter. At least one company is followed by 90% of Instagram users. Market goods aren't the only ones that prosper. When it comes to exploring new products or services, more than 36% of B2B decision-makers use Instagram. Instagram can also help you promote new products and raise brand awareness. Eighty percent of Instagram users have purchased something after seeing something on the site. Instagram helps you to advertise your brand and services in a friendly, honest way to your customers without being pushy.
Linkedin
LinkedIn is a professional networking and career growth social media platform. LinkedIn is a professional social networking site. The web, which was established in 2002, allows professionals to reconnect with old and new colleagues, expand their network of business contacts, network within their industry, discuss business ideas, search for jobs, and find new hires.LinkedIn is an extremely useful platform for entrepreneurs, sales representatives, advertisers, and even developers. With LinkedIn, you can efficiently create connections and develop your company.
Pinterest
Pinterest is a social media platform where people can get ideas and inspiration for their hobbies and interests. Any concept is defined by a Pin, which is a picture that Pinterest users can find and save. Pinterest is perfect for driving traffic and sales because pins can connect back to websites. It also effectively help customers find more information about goods they want to purchase, which is crucial for companies.
Twitter
Twitter is a microblogging platform that lets you send and receive short messages known as tweets. Tweets can contain up to 140 characters and links to related websites and resources. Users on Twitter will follow each other. You will see someone's tweets in your Twitter 'timeline' if you track them.
A Twitter marketing strategy is a strategy for developing, publishing, and sharing content on the social media website for your buyer personas, audience, and followers. This form of strategy aims to increase revenue by attracting new followers and leads, increasing conversions, and improving brand awareness.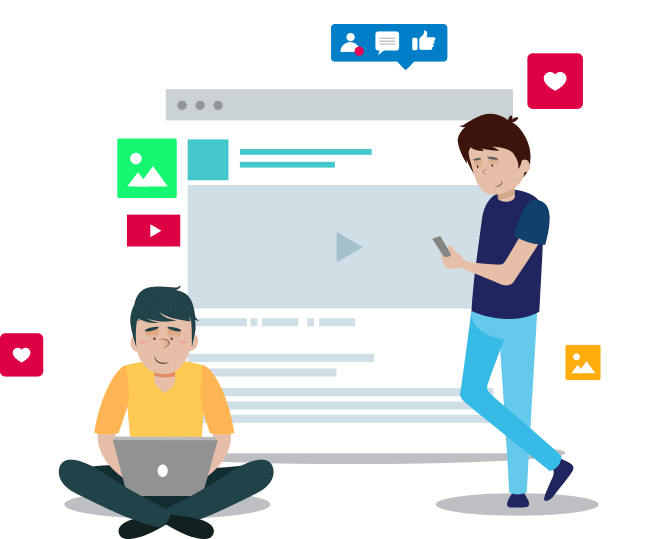 Why Social Media Services from Zenerom?
You want your business to be recognized around the parts of the globe? Don't have any effective strategies? We can assist you in Social Media Marketing. We have years of experience in Digital Marketing and we exceptionally stand out for Media Marketing.
We make sure to implement strategies that are proven out there in the market and curate creative, influential content to target your audience to boost your business products and services. To create brand awareness, we build a way to improve traffic and sales towards the business. We analyze and advertise for you. Before executing an idea there is an engagement with the clients to ensure customer satisfaction.
Last but not least, our priceless customer service brings back the customers running back to us. With practical results, we build up a professional platform for our clients to effectively communicate and work with us.